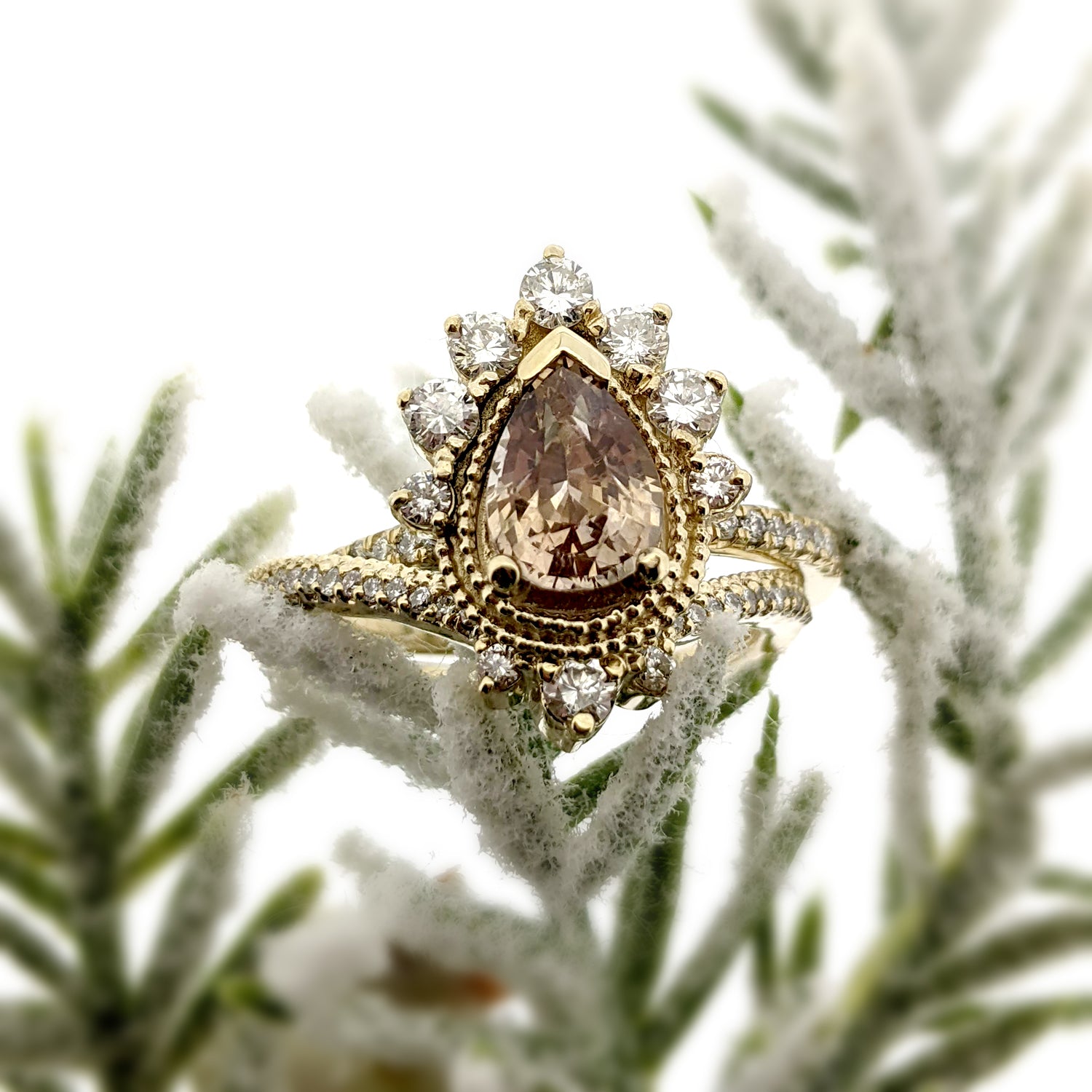 There is no more intimate object than a piece of jewelry.
I specialize in creating authentic pieces with personality and presence.   Whether it's an engagement ring or a statement piece for a special occasion, I will work one-on-one with you to create the perfect piece, tailored to both your style and lifestyle. 

We all posess extraordinarily specific qualities and nuance.  Jewelry is the most personal, meaningful type of adornment. As such, it should simultaneously reflect, honor, and convey one's individuality.

For as small as it is, jewelry is one of the most profound posessions we own. There's nothing more rewarding than helping craft these pieces.

I look forward to helping you create future heirlooms that are as distinctive as you are!
Not local? No problem!
Katie is happy to hop on a ZOOM call and is used to and working with clients entirely remotely
(EVEN if you have materials you'd like to recycle or you're still searching for the perfect stone!)

The first conversation is always complimentary, and it gives us both a chance to determine if we're a good fit for your project.

Throughout the custom jewelry design process, we will meet as many times as it takes to create the dream piece, whether that's in person in Greenville, SC or if it's virtual.
YES, I want to schedule a consultation!
HOW CUSTOM JEWELRY DESIGN WORKS
Consultation + Stone Search

Each project starts with a consultation. We chat, I get to know you and your preferences, and we discuss stone options. I can source a stone for you, or can work with an heirloom stone you already have.

Sketches

Once I have a good grasp on your likes, dislikes, dealbreakers, must-haves, personal details and style, I'll move into a sketch phase. This may entail one round of drawings, or two, or three.

CAD + Wax Work

Once you have chosen a design, I move on to the technical design and fabrication stage.

Depending on the nature of the design, this may involve hand carving, CAD design, metal fabrication, or some combination of these.

If I use CAD -- you'll get to see a 3D printed prototype.

Casting

Most (but not all) custom designs are cast.

Using your gold or mine, I'll cast your piece using the traditional lost wax casting method, a multi-step process that has been used for centuries.

*details of recycling your gold can be discussed during the initial consultation.

Stone Setting + Finishing

After a design has been cast or fabricated, it is sanded and finished to a pre-polished state. Then, any stones are set and special finishes applied. After this, any final polishing takes place.

Then, the hard part starts: waiting until the perfect moment to gift your piece.
MAKE IT SPECIAL
Commissioning a private piece of jewelry is a special experience.

Every detail can be considered, every feature shaped to suit your individual interests and expectations.

There really is no limit to what can be accomplished, and the result is a one of a kind piece that speaks to you, and of you, for future generations.
LET'S GET STARTED!