NATURE INSPIRED JEWELS
Katie crafts authentic jewels inspired by flora and fauna that speak to a woman's adventurous spirit.
She uses ethical gems + metals and hand crafts custom pieces from heirloom gold + diamonds.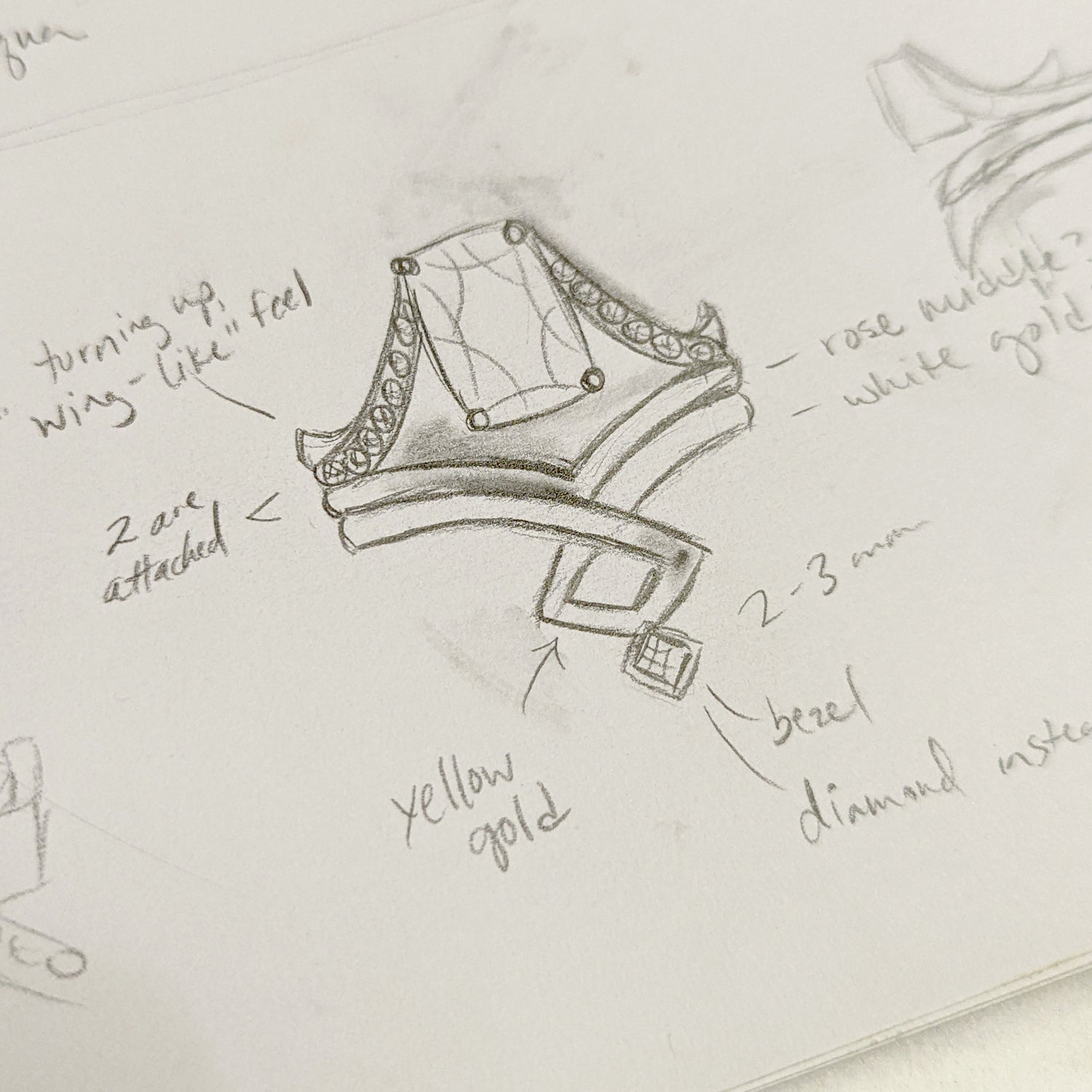 CUSTOM DESIGN
Katie works one on one with clients to design stunning 'future heirlooms' -- one of a kind pieces that are as unique and individual as you are.

There's no more intimate way to capture your unique love story or commemorate life's biggest moments than a personalized piece of jewelry you'll wear every day.
WORK WITH KATIE
Expertly Crafted

With over 15 years of experience and two professional degrees in both technical and design training, Katie is more than qualified to handle any of your jewelry needs.

Katie puts equal emphasis on quality of design and quality of execution.

Authentic Designs

Custom design does not simply mean crafting what already exists or combining existing ideas into a new package.

As a professional designer, Katie will start with drawings. Often these reference specific things from your personal story, incorporated in unique, tasteful ways.

Ethical Materials

Whenever possible, Katie utilizes ethically sourced, tracable materials with the least possible social, economic, and environmental impacts.

All of the gold and silver Katie works with comes from recycled sources.

Stones come from quality suppliers that offer ethically sourced natural stones and/or chemically identical stones produced in a lab.
Real Couples Rave ⭐⭐⭐⭐⭐
"Katie has an incredible aesthetic and a keen eye for design. Whether it's one of her own unique designs or you have something in mind - she makes your vision come to life (and then surpasses your expectations)!

Her jewels are treasured gems that will last a lifetime. You will never go to a big box jeweler with her relentless pursuit of perfection and bottomless knowledge of her craft."— LAUREN

"Katie does truly incredible work. She made an incredible engagement ring for my wife and endured hours of listening to my vision for the ring.

She also took a lot of time to find the perfect diamond that fit the vision we had dreamed up.She also made our wedding bands, which are simple and very beautiful.

Katie should be making your jewelry. She is incredibly talented and you won't be disappointed!"— RAY

"I have yet to see anything created by Katie Poterala that I wouldn't rate 5 stars.

Her work is very high quality and her aesthetic is incredibly unique!

Katie strikes the perfect balance between being artistic and professional, and is very knowledgeable about her subject matter."— KATE
Prefer to meet in person?
We'd love for you to visit the studio!

Katie is an owner of MAKE MADE Jewelry, located in beautiful downtown Greenville, SC.

Hours: Tues - Sat 10am - 5 pm